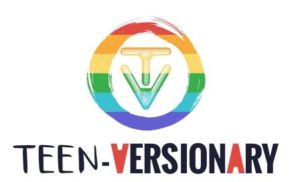 Teen-Versionary summer camp is full, and is no longer taking participants. But we are excited you are here and interested! If you would like to be added to the waiting list, enroll by clicking the link below, so we can keep you apprised of changes in enrollment status. Looking forward to hearing from you!
Two Week LGBT+A Acting Camp!
Diversionary is proud to present Teen-Versionary, our first teen acting company exploring the LGBT experience. Teen-Versionary runs Monday through Friday, July 9th through the 19th, 10am-3pm. Friday July 20th 12:00 Call and two shows 3:00 PM and 7:00 PM. This summer Teen-Versionary will rehearse and present queerSpawn by Mallery Avidon on Diversionary's Historic Mainstage.
Teen-Versionary is unique, producing a new play exploring the LGBT experience, and the ensemble is comprised of LGBT teens and their allies, creating a safe space to creatively explore the story and characters. Through a two week intensive rehearsal process, the teen ensemble will get a taste of a professional theatre process in a fast paced environment where a new play is fully produced in two weeks.
queerSpawn tells the story of The Kid, a fourteen-year-old starting high school in a small town. Everyone knows he has two moms, and that's just  the beginning of his trouble. While dodging bullies, The Kid conjures imaginary allies, including sex/relationship advice columnist Dan Savage and Dr. McSteamy from TV's Grey's Anatomy. This provocative, hilarious and poignant new play takes an unflinching look at what it means to be a teen today, and the persisting stigma around the LGBT identity.
Folks aged 13 to recent high school graduates are welcome to apply for a position in Teen-Versionary. Anyone who wants to feel part of something special to apply is encouraged to apply. Because of the advance timeline, some theatrical experience is also encouraged, but not prerequisite.
Tuition: $400 for two weeks. Some Full and Partial Scholarships are available.
Please contact  our Education Associate with any questions:
619.220.6830 x109