May 4th – June 4th, 2017
Written by Georgette Kelly
Directed by Matt M. Morrow

How do we become who we are? In an investigation of identification and intimacy, BALLASTintertwines the story of two relationships between trans and cisgender partners as they grapple with the stranger they find across the dinner table and in the mirror. This cutting-edge new play skydives into personal identity, navigating intricate dreamscapes to explore how gender shapes our spirituality, desires and destiny.

This performance is approximately two hours with one intermission.

Tickets are currently available to Package Holders only.
If you would like to be notified when single tickets go on sale to the public, please join our email list.
If you already have a subscription and would like to select your performance, please log-in.

BALLAST is generously supported by

I've had the pleasure of developing this play since 2012, helming an early developmental workshop of it in New York City while Georgette was studying with Pulitzer Prize winning playwright Tina Howe at Hunter College. It's been a privilege to watch it grow and expand, confronting some complex issues facing the trans community today with intelligence, poetry and surprising humor. Not only is the play topical as our country faces the inexplicable issue of who should use what bathroom, the play is transporting and incredibly theatrical. Georgette takes the audience on a journey that is both epic in scale and deeply personal, to emotional and psychic realms never before traversed in the theatre. Expect the unexpected with this profoundly original World Premiere.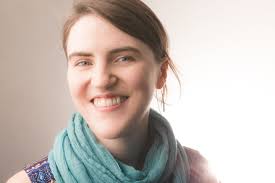 Georgette Kelly is a playwright with one foot in New York and the other in Chicago.  Her play Ballast was featured on The Kilroys List 2015 and was chosen as a finalist in the 2015 Alliance/Kendeda National Graduate Playwriting Competition.  Georgette's other plays include: I Carry Your Heart, Faith in a Fallen World, In the Belly of the Whale, how to hero or the subway play, and an adaptation of Jeanette Winterson's Lighthousekeeping.  Her work has been developed by The Kennedy Center, The National New Play Network, The DC Source Festival, The Alliance Theatre, terraNOVA Collective, Taffety Punk, Diversionary Theatre, Capital Stage, TOSOS, Prologue Theatre, New Leaf Theatre, and Chicago's DCASE.  She is a 2016 Lambda Literary Fellow and a member of 2014-2015 TerraNOVA Groundbreakers Playwrights Group, The Dramatists Guild of America, and Writers WorkSpace.   Georgette holds a B.A. in Performance Studies from Northwestern University and an M.F.A. in Playwriting from Hunter College, where she studied with Tina Howe, Arthur Kopit, and Mark Bly.  GeorgetteKelly.com.
In Progress
Matt M. Morrow (Director)
Since joining Diversionary, Matt has directed the San Diego Premiere of Bash Doran's The Mystery of Love and Sex, and the West Coast Premieres of Jordan Harrison's Amazons and Their Men and Christopher Shinn's Now Or Later. Prior to joining Diversionary Theatre, Matt was the Associate Artistic Director of City Theatre Company, a LORT theatre in Pittsburgh dedicated to producing work written in the past five years. With City he directed the Regional Premiere of Jessica Dickey's Charles Ives Take Me Home, the World Premiere of Tami Dixon's South Side Stories (Pittsburgh Post Gazette & Tribune Review's Top Ten of 2012; "…directed to crystalline point by Morrow." -City Paper), Kim Rosenstock'sTigers Be Still ("Morrow has struck a balance between the jokey and the serious sides of "Tigers Be Still" so that Ms. Rosenstock's simple message comes through clearly and without preaching." -The Pittsburgh Post Gazette); and workshops of the new musical The Shadow Sparrow by Anton Dudley, Keith Gordon and Charlie Sohne, and Don't You F*cking Say A Word by Andy Bragen for City's Momentum Festival of New Works.
He has developed new work with The Sundance Theatre Institute, The Banff Centre, American Conservatory Theater, Lincoln Center, PlayPenn, and Page 73 Productions in residence at the Yale School of Drama. His work as a director has been seen in NYC at Amas, Playwrights Horizons, Urban Stages, EST, HERE, Dixon Place, Cherry Lane, The York, The Tank, NYC Int'l Fringe, Midtown Int'l Festival, among others. Favorite credits include: SCarrie! The Musical (Bricolage Productions), Only Children (Lincoln Center), the first NYC revivals of The Falsetto Trilogy, The Most Fabulous Story Ever Told, john and jen, and Lisa Kron's 2.5 Minute Ride ("an affecting revival" -The New Yorker, "an exhilarating ride" -The New York Sun). His production of Jennifer Haley's Neighborhood 3: Requisition of Doom with Bricolage Production Company was cited as "breathtaking" by City Paper and in the Top Ten of 2010 by The Pittsburgh Tribune Review.
Matt is currently developing Jennifer Haley's FROGGY. He served as The John Wells Professor of Directing at Carnegie Mellon University's School of Drama (Graduate & Undergraduate Directing programs), and is a member of the Lincoln Center Director's Lab. He holds a BFA in Directing from Carnegie Mellon University. www.mattmmorrow.com
Ron Logan (Scenic Design)  Bio in Progress
Bonnie Durben (Property Master) Diversionary Theatre: The Boy Who Danced on Air, Now or Later, She-Rantulas, Baby With The Bathwater, A New Brain and Amazons and Their Men.
Mira Costa Theatre; These Shining Lights, Romeo and Juliet, Seven, Vanya and Sonia and Masha and Spike, Urinetown. Moonlight Theatre Productions; Sister Act, Peter Pan, Titanic, Addams Family, Music Man, Shrek, All Shook Up and Big Fish.
Intrepid Theatre: Who's Afraid of Virginia Wolf, Quality of Life, Hamlet, and I Hate Hamlet.
Member of the Society of Property Artisans and Managers.
Sherrice Mojgani (Lighting Designer)  Bio in Progress
Tara Knight (Projection Designer) Diversionary Theater: Amazons and Their Men. La Jolla Playhouse: Hollywood (2016 Craig Noel Award Outstanding Projection Design Nominee), A Dram of Drummhicit, Our Star Will Die Alone (Without Walls Festival).  Dance: The Floating World (San Diego Museum of Art, Emmy Award), Camera Dances (Co-Director, Best Experimental Film, Amsterdam Film Festival), Right Here (Co-Director, Screenings: Finland, Portugal, Brazil, Italy). Animation: Hedwig and the Angry Inch (Animation Assistant). High Tide (Director, Best Animation, Amsterdam Film Festival), Mikumentary Series (Director, Screenings: Discovery Channel, South by Southwest Interactive, Time Warner "Future of Storytelling," Mori Art Museum in Tokyo). Tours: 2014 Hatsune Miku Expo (Hammerstein Ballroom, Late Night with David Letterman, Nokia Theatre). Associate Professor of Critical Media Practices, University of Colorado, Boulder.
Blair Nelson (Composer/Sound Designer) Credits at Diversionary Theatre include: The New Century, Dooley, When Last We Flew, and The Divine Sister, A New Brain, Bright Half Life, A Civil War Christmas, and  Now or Later. His new music collaborations have been curated, composed, and performed at the University of California San Diego, Calit2, San Diego Art Department, California State University San Marcos, San Diego Stage 7 School of Dance, Canvas Gallery San Diego, San Diego State University, San Diego Space 4 Art, and the Roy and Edna Disney CalArts Theater Los Angeles. Blair completed a Master of Fine Arts in Sound Design from the University of California, San Diego, Department of Theatre and Dance in 2012 and received a Bachelor of Music in Theory / Composition from Concordia College, Moorhead, Minnesota in 2007.
Elisa Benzoni (Costume Design) Elisa is thrilled to be working with Diversionary Theatre for the first time. Select credits include Sex with Strangers (Geffen Playhouse), The Who and The What, Our Town; Tall Girls; Brahaman/I; Sam Bendrix at the Bon Soir (La Jolla Playhouse); Constellations (Old Globe); Pericles, Prince of Tyre, Reckless, Much Ado About Nothing and Measure for Measure(USD/Old Globe); The Cocktail Hour, Fox on the Fairway (Nominated for a Craig Noel Award), Hedda Gabler, Chapatti, Sherlock Holmes and the Adventure of the Great Nome Gold Rush (North Coast Repertory Theatre); Emilie, Sylvia, Much Ado About Nothing (New Village Arts); Snakeskin, Lifeblood Harmony, Chagall; A Man Found Wanting (Malashock Dance); The Storm; The Threepenny Opera; A Man, His Wife, and His Hat (UCSD). Assistant costume credits: Dialogues des Carmelites (Teatro Petruzzelli, Bari), Paradise Found (Menier Chocolate Factory, London), Milk Like Sugar (La Jolla Playhouse), As You Like It, Midsummer Night's Dream (The Old Globe). Elisa holds a costume design MFA from UCSD. www.elisabenzoni.com
Monica Perfetto (Stage Manager) Bio in Progress
In Progress
In Progress
Performances run Thursdays at 7pm, Fridays and Saturdays at 8pm, and Sundays at 2pm. More information can be obtained by calling our box office at 619-220-0097.

Low Cost Previews
Thursday,May 4th – Friday, May 9th
First Fridays

To say thank you to those that serve, Diversionary offers complimentary tickets to Active Duty, Veterans and their families. Email Cara@Diversionary.org for more information.

Friday, May 5th at 8pm
Opening NightPre-and post show festivities – celebrate with the cast and company.

Friday, May 13th at 8pm
Industry Night

Theatre Professionals enjoy a special discount to our only Monday evening performance!

Monday, May 15th at 7pm
Designer Spotlight

Join us in Fritz's Lounge before the show to meet the Design Team, see a display of the concepts used in producing the show and hear the influences and process involved. Hosted hors d'oeuvres round out a fun pre-show experience! The party starts at 6pm before the 7pm performance.

Thursday, May 18th at 6pm
Director Happy HourJoin Director Matt M. Morrow in Fritz's Lounge for hosted hors d'oeuvres and a chance to chat before the show! Pre Show reception at 6pm, performance at 7pm.

Thursday, May 25th at 6pm
Backstage Thursdays : Next Act

Next Act is your opportunity to mix and mingle with the stars of the upcoming shows in our 2017-18 season! They'll be available to answer questions about the production, and you'll benefit from complimentary appetizers! Join us starting at 6pm before the 7pm show.

Thursday, June 1st at 7pm
In Progress
In Progress
In Progress